Some 331 passengers and 98 crew members are stranded after the MS Viking Grace, a large passenger ferry, ran aground Saturday afternoon off the coast of Mariehamn, in the Finnish archipelago of the Aland Islands, according to the Finnish Coast Guard.
Later Sunday, the ship resumed its journey under its own engines to Turku, where it will be put into a local shipyard for a closer inspection and repairs. Ferry operator Viking Line confirmed the incident and said it was investigating.
The vessel was en route from Stockholm to Turku with a scheduled stop at Mariehamn.
"The ship's situation is stable".
"Firmly grounded, no leaks", the Finnish coast guard had tweeted.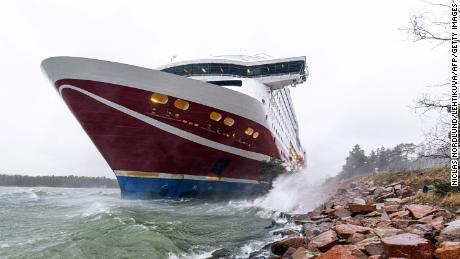 Ferry VIKING GRACE with 331 passengers aground, Finland VIDEO
"The passengers will have to spend the night on board and disembark (Sunday)", the spokeswoman said.
The Viking Grace, listed with capacity for up to 2,800 passengers and 500 vehicles, had been deployed Saturday because of a storm warning, instead of a smaller less sturdy vessel, Viking Line told the AFP news agency.
Viking Line spokesperson Johanna Boijer-Svahnström on Sunday said Viking Grace was carrying Finnish passengers back to the mainland, while Swedish passengers would board sister ship Viking Amorella for travel to Stockholm. Narrow passageways and shallow waters are a defining feature of the waters around the islands, making it a challenging area in which to operate big ships.
News of Baltic ferries in trouble reawakens grim memories of the nighttime Estonia ferry disaster in September 1994.
But, new underwater footage broadcast earlier this year showed a hole in the ship's hull.