A former White House butler who served 11 U.S. presidents over more than five decades has died at the age of 91 from coronavirus.
Jerman died last Saturday at Sentara Northern Virginia Medical Center in Woodbridge, Va. with Covid-19, the disease caused by the coronavirus which has infected 1,621,333 with 96,363 deaths.
Dwight Eisenhower was president when Jerman was hired, and Barack Obama was president when he left in 2012.
Mr Jerman's family members say he stood out not just to the Kennedys, who were in the White House during 1961-63, and the Obamas, who lived there from 2009 to 2017, but others he met in his roles.
"Jerman served as a White House butler across 11 presidencies and made generations of first families feel at home, including ours".
Former President George W. Bush and first lady Laura Bush said that Jerman was a "lovely man".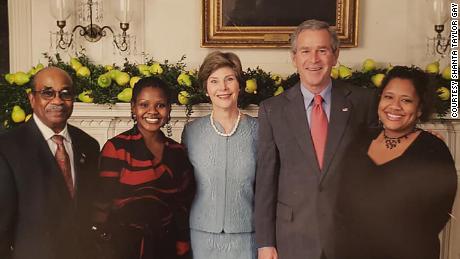 Former White House employee, one of the longest-serving, dies of coronavirus
"He was the first person we saw the morning when we left the residence and each night when we returned", the Bushes said. She recalled that when she worked as an intern he would get her a meal if she had not eaten and that he even called her during a particularly rough snowstorm to make sure she was okay. According to Jerman's granddaughter Shanta Taylor Gay, his promotion was advocated by then-First Lady Jacqueline Kennedy Onassis.
Gay said Jerman initally retired from the White House in 1997 but went back to the White House in 2003.
"He was a quiet but stern man". Believed to be one of the longest-serving employees of the White House, Jerman served 11 United States presidents in a career spanning five decades. It wasn't until the John F. Kennedy administration that Jerman built a friendship with Kennedy and his wife that he was promoted to a butler.
"Bill and I were saddened to hear of the passing of Wilson Roosevelt Jerman at the age of 91 from COVID-19", she tweeted. He ultimately wrapped up his tenure in the White House under President Barack Obama where he held the position of maître d'.
Former First Lady Michelle Obama included a photo of Jerman standing in the elevator with the president and first lady in her memoir, Becoming. "Our warmest condolences to his loved ones", she wrote.