I don't know the ins and outs of that deal, but the original Jurassic World is already scheduled to air at 7:20pm ET/PT this Sunday night on FX, so Battle at Big Rock will nearly certainly be attached to that.
Before Colin Trevorrow returns to Jurassic World for the third film in the franchise, the director is apparently giving audiences a glimpse on the small screen.
On Tuesday, September 10th we finally got official confirmation on when the short film will be released. Accompanying the announcement were Jeff Goldblum's ominous words from Jurassic World: Fallen Kingdom: "These creatures were here before us. And if we're not careful, they'll be here after". The short follows an all new cast consisting of André Holland, Natalie Martinez, Melody Hurd and Pierson Salvador. Larry Fong (Batman v Superman: Dawn of Justice) is onboard as the cinematographer, and music for the short film is composed by Amie Doherty (The Umbrella Academy).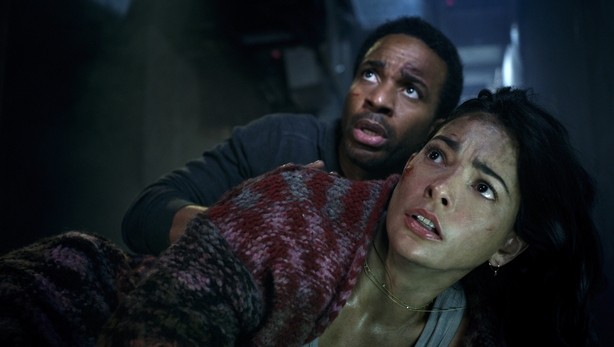 Andre Holland and Natalie Martinez in Battle at Big Rock via Universal
Screenwriter Emily Carmichael (Pacific Rim Uprising) penned the script. Carmichael is also working on the script for Jurassic World 3.
The short takes place one year after the events of the last film in Big Rock National Park, where dinosaurs are now living in our world.